HEY! DOWNLOAD THE APP, RIGHT NOW
Every business that is willing to advance themselves online ought to have an application that helps consumers in reaching out to their products and services with the utmost ease. But the really upsetting point is that many entrepreneurs don't know the process to get it done. Fairly why should they even know? They're people rushing day and night to build an empire, so why worry about something that can be easily outsourced to us? That's right, leave your application designing with us. As Canada App Developers, we've got you covered with interesting and user-friendly applications.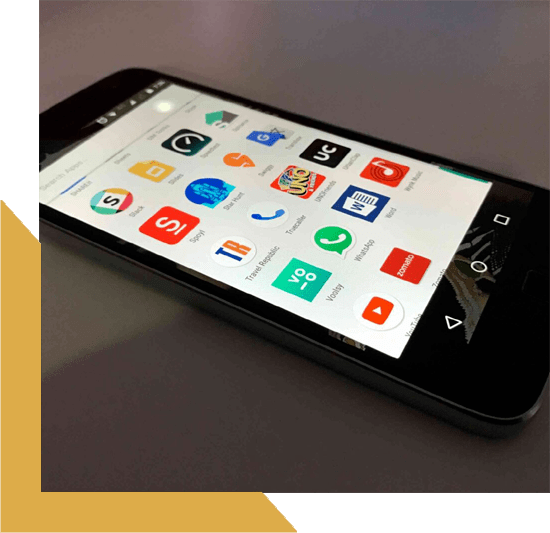 MOBILE APP THE BIZ BOOSTER
After a lot of thinking, planning, strategizing, we finally execute the idea and produce straight-up magic for you, something that is indeed mind-blowing. Our team features top-notch IT professionals who then coordinate with app designers, and together they make sure that the app has an interactive point and is well-functioning as well. No job is left unattended, your newly designed application will only take you a step ahead since we don't create lagging and poorly functioning applications. Our API team constantly observes your application's functioning, making sure that there won't be any issues.
We have a complete set of knowledge and foster your requirements very well as an app development agency that works in Canada and other countries.
OUR TIPS AND TRICKS FOR MOBILE APPS
Get your hands on a well-coded, typically crafted application that has an amazing user-interface. Believe us, nearly 87% of the potential clients turn around after seeing the business's application not working properly. Nearly everyone drops their patience to a far more low than either you and me would imagine, and thinking of using the app 'maybe some other day'. Believe us, that some other day never comes, and it is all a clear loss that your eyes wouldn't want to witness. It is a sheer mishappening for your venture.
Smartly curated tabs and sections that redirect your consumers quite smoothly. As a business with an application, all your services and aspects should be covered under the platform you're giving access for to get benefits of your business. Hence, after coming to a conclusion on what your business exactly covers, we begin designing an application consisting of different sections with a customized menu tab that makes redirection a lot easier.
What is that one thing that your application still needs to cover? Its content. A good digital copy can take you straight from ground zero to a hundred, therefore as we focus on your mobile application, we also begin to function towards creating a smart and attractive market copy, creating a need amongst consumers for products/services they never thought they would need. Get clients from your application, and if you're wondering how, don't worry, as an inbound Canadian agency, we're here to help you out