Did you know that we're here for you if your eCommerce is'nt doing that well? E-commerce is not about selling, it's about decoding the BUYING BEHAVIOUR and tailoring the sales strategy accordingly. One of the best eCommerce portal management and AI enabled solutions in US,Canada and other countries is brought out by us. We translate a ton of touchpoints, eliminate complex strategies, and also provide relevant and genuine insights to a client for their purchasing step.
Our campaigns will help you have a better ROI, enhance customer experience, and build a lifetime value for the customer. We provide eCommerce solutions to different industries, and each of them is assured to receive a profitable outcome.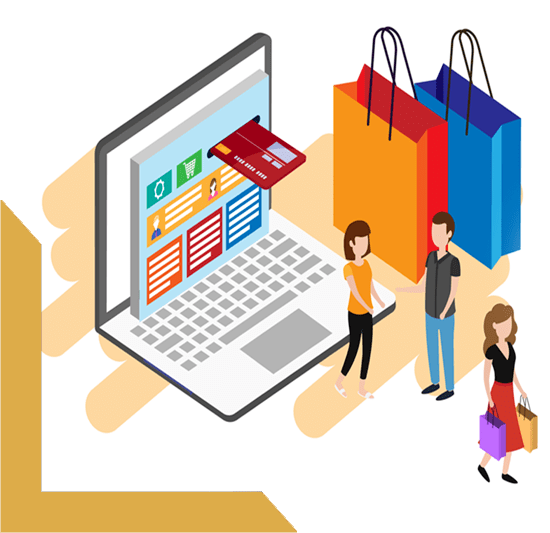 E-COM INSIGHTS.PLAY IT RIGHT.
With the data insights, you receive as you apply our campaigns, normalize the supply chains and even build new products for consumers. Discover the whole new array of buying signals, identify individual consumers, and get the opportunity to provide a personalized experience to increase sales. We at Midas Click help you do all of this, at your utmost comfort. Transfer the burden on our shoulders and all things will be taken care of.
We swear by the data, by analytics, by insights and by the gut feel of a creative idea. Hence, what we do always hit the Bull's Eye. Midas Click focuses on the quintessential level of marketing that is often ignored. Rather than spending time figuring out what to do, rely on us for dedicated services that actually prove themselves, and that too at competitive prices. Why hurt your pocket for average results, put us to work, and we can show your bank balance going up in real time.
WHAT DO WE DO TO GENERATE THE BEST FOR YOU?
Call-To-Action strategies that straightaway make a user interested in your products. You're working hard to build your business online, and trust eCommerce for the same. We, on the other hand, bring that eCommerce business to lifee.
High-ranking techniques that make you list on top anytime someone wishes to buy the products you sell online. That's right! It just doesn't have to be giant businesses, but your business will also be listed well.
Smart and detailed campaigns that focus on every little detail of your business. Be it product details that need elevation or marketing techniques that need to get better, every campaign should and always will focus on small details for making it an all-in-all success.
Complete monitoring of your eCommerce business's recognition, because you're online, you definitely need yourself to be identified amongst your target audience. Your eCommerce needs a lot of attention, and we'll give it to you.