Here's a chance for you to promote your business with extremely creative and converting emails. At times when you drop mails, you face a bigger problem, that is attracting clients via those emails. In times when even a food app's notification is personalized, how does one attain success with one-size-fits-all messages? Curate emails that are appealing, build it straight from scratch with us! The only job you have to do is approve, we'll take care of everything else. Witness dynamic improvements in your email responses and attract clients, but this time, with more actuality and smart accessibility.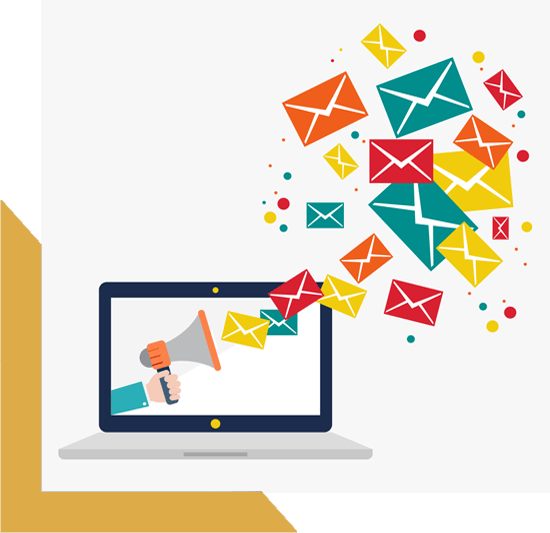 HELLO HUBSPOT BONJOUR MAILCHIMP
Each emailer is doing it's job. Some convert right away and some later. You just need to work with us on your business messages and we take care of everything else. There is absolutely no need for you to master the art of email marketing, our creative talents from across the globe have got you covered. We, as a digital marketing agency, have something sort of a Ph.D. in email marketing, and we literally ace it! All the steps are taken post A/B testing and monitored optimization.
It's a tricky difference between frustrating your customers and appealing to your customers. You need to maintain a balance like a rope-walk. We have been doing it over a decade and have mastered the tricks. Our emailer campaigns have the highest Open Rates and Conversions.
OUR KEY FOCUS AREAS IN EMAIL MARKETING
Customized cold pitches. Do you think the same old world with those boring techniques to attract clients and fellow business personnel would work? Knock!Knock! It's 2021, and customization along with personalization is the only way to bring clients right towards you. We draft the most perfect and intact pitches that make the consumers of your product/service drool towards you.

Make way for interactivity! In these times, interactivity matters the most as every client desires to be reached out for their very own needs. We analyse your potential client's market behaviour and their consumption patterns in order to target them accordingly. When they receive such mails, there is a 90% click rate, and a 57% rate that they will act positively on it. It is a clear win situation for your business as it builds you a whole set of clientele.